---
Review - BLUES IN BRITAIN
Fran McGillivray Band at the Three Lions (Scratchers) Farncombe 3.6.17
Fran McGillivray fronted the trio on vocals and bass with Mike Burke on guitars and Roger Nunn on drums and djembe, everyone pitching in on backing vocals.
Djembe and dobro gave a country blues feel to "When When When", the first tune from the new CD Midnight Call which was followed by "Ramblin' Man" and "Midnight Special", the former learned from Ella Fitzgerald (but also recorded by Ma Rainey and Bessie Smith), Leadbelly the latter. Little Walter's "Blues with a Feeling" was given a jazzy treatment with Fran's Bass well up in the mix; in fact the sound was superb, every note and beat being hear clearly, far from always the case in pub gigs!
A trio of songs from Midnight Call demonstrated the band's range with the tender "Love and Regret" followed by the upbeat "End of the Road" and "Get Back to Love", a plea for an end to violence. Mike took the lead on "Mercury Blues", Fran and Roger providing excellent harmonies, and "Route 66" was a natural follow up with a fine jazz- tinged solo. "Hard Working Woman" dates back to the So Long Angel days and provided more fine harmonies before Roger really enjoyed the tribal rhythm of "Not Fade Away" to close the set.
After a short break Roger was back on his djembe as the band reprised two songs from the previous album, the playful "Big Front Seat" and the title track "Some Luck".
The really catchy "I Gotta Know" was an early highlight before Mike dedicated "Statesboro Blues" to the recently departed Greg Allman. The band then gave us a funky trio of "Walking the Dog", "Wang Dang Doodle" and "Heard it through the Grapevine" followed by an old favourite, Sonny Boy Williamson's "Checkin' up on my Baby". "Blood on your Hands" was another original, with dark lyrics and an impressive solo from Mike, and Mister Blues was a jaunty shuffle, inspired by an impressive dancer at a gig with audience participation encouraged before Roger's drums introduced "Born Under a Band Sign" to close the set with some Albert King.
There was just time for the inevitable encore, a quick run through Taj Mahal's "Blues Ain't Nothing" to round off an excellent evening's music.
John Mitchell
---
Interview - Pete Feenstra's "Get Ready To Rock" show in January 2017: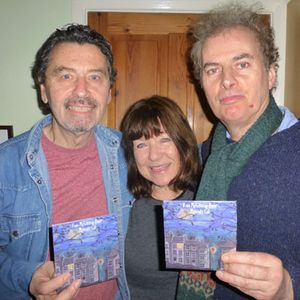 just click the picture to listen to the hour-long show...
---
Interview - on The Blues Sisterhood site April 2016:
sister-showcase-3-fran-mcgillivray-burke
---
Review - Scratchers, Three Lions, Farncombe, 20 June 2015
from Nobody in Particular
My face hurts.
It hurts from the huge pleasure of watching the Fran MGillivray band at Scratchers, at The Three Lions in Farncombe last Saturday. This was a great gig with a nice 'clubby' feel to it.
I try to watch Fran, Mike and Roger whenever they are in my local area, which is not that often. I have found them to be polished, professional, reliable, tight, and exciting. This gig was no exception. Fran's voice is worth the journey alone, rich and expressive, but to play such rock steady bass at the same time is no mean feat. Powerful, accurate lines emanate just from apparent gentle and economic fretting of her Fender Jazz. She excels with driving bass-lines such as those on 'Blues with a Feeling', and their version of 'Route 66'. Her bass on 'Blood on your Hands' was positively gripping. Mike's slide picking on his modest resonator is restrained and accurate resulting in a 'less is more' effectiveness. His semi- acoustic solo on 'Spoonful' was quite remarkable. The band is tight in the hands of Roger's dependable percussion, and the early numbers on his djembe alone just goes to show what can be achieved without his full Gretsch kit. The gentlemen's harmony on 'Blues Dancers' was particularly pleasing, and I enjoyed the big full sound of 'Born Under a Bad Sign'.
'You can't do everything you want to - you're gonna need some luck'. Well these three lovely talented people have worked hard at it over the years, their craft has become well-honed. They deserve Some Luck, if only in the form of much wider recognition.
I never tire of watching the Fran McGillivray band. I look forward to seeing them at Bentworth on 17 July. Their own evident enjoyment is infectious, and their performances are most rewarding. My face still hurts...
Malc Hemming Blues jammer, and nobody in particular, Basingstoke Blues Club.
---
Review - Man Of Kent, Rochester, 15th Jan 2014
from Maverick Magazine
Fran and Mike of the Fran McGillivray band returned to the Man of Kent, for the first time in two years. I hope it won't be as long before they're back again -this venue and band were a great pairing. A hidden gem in historic Rochester, with a large selection of real ales and local music lovers, the atmosphere of this small venue on this cold January night was the ideal backdrop for a night of blues, country and soul.

I had never seen the duo before, but I was keen to see them live after hearing them on Maverick Music Volume 8. From the original opener Drinking From The Same Old Well I knew I was in for a treat. Fran's vocals are warm, full and truly soulful and Mike has some very impressive picking skills, playing a resonator slide guitar with a technique that is both individual and dynamic.

Not only are Fran and Mike highly skilled musicians, but they are likeable and charming and provided us with anecdotes to accompany their songs during the set and in the short interval. These included the story behind Researching The Blues, which was inspired by Fran's habit of finding herself on YouTube listening to blues singers for hours at a time - "I call it serious study and research...and sometimes it is," she laughed.

This intimate set included a good balance of original songs from the band's new album SOME LUCK as well as a great variety of covers - never too obvious though, these two are clearly well researched blues fans as well as musicians (just as the song suggests), and paid successful homage to artists including Willie Dixon and a lighter cover of Mississippi John Hurt's Make Me A Pallet On Your Floor.

Hurt's Make Me A Pallet On Your Floor was followed by another cover. Hear Me Talkin' To Ya features old blues lyrics that have been widely covered but it is the Ella Fitzgerald version that Fran most easily relates to. The duo's broad influences constantly shone through; their well-rounded taste and sound features blues, soul, folk and country - they also have a great energy that led to a rock out or two from Mike, who moved around with an enthusiasm that drew me in and got me moving too.

Fran performs each element of a song and conveys every strand of a narrative through her beautiful voice and thoughtful stage presence - this was particularly the case with songs from SOME LUCK including Candle Burning 'a song for insomniacs' and When A Love Crows Cold "a happy melody with a sad ending." The title track Some Luck, showed a darker, seductive side to Fran as she sang 'I like everything about you' but warned 'You can't do everything you want to, You're gonna need some luck'. Fran McGillivray and Mike Burke have been writing and performing since the 70s and I hope the band will continue going strong. Don't miss the chance to see them live - this is a band whose dedicated live performance and varying musical influences will cater to many a different music lover. Charlotte Taylor




Click to view larger image
Review - Broadstairs Blues Bash 24th February 2013
This is the fifth year of Broadstairs Blues Bash Festival and it was always going to be a good one. Forty bands around the town and the fabulous Blues Band on the main stage. All this together with the wonderful retro charm of Broadstairs itself.
The last night of the festival was not calm. The waves raged against the harbour walls and the wind was icy but inside the Tartar Frigate there was a warmth and air of expectancy as Fran McGillivray and Mike Burke set up their equipment. I was early- too early but last year I only caught a glimpse of this duo and I was determined to catch their whole set. They didn't disappoint kicking off with "Don't wait up" one of their own songs and then sliding into "Make Me Down A Pallet On Your Floor". They went on to play their own versions of  blues standards which they mixed in with their own compositions. Stand out performances for me was the thrilling Little Walter song "Blues with a Feeling" in which Mike really stretched out, the spiritual "Wayfaring Stranger", and "Sitting on Top of the World"  Fran said that much of the material that night would be on their new CD which she promised would be available in the summer.

Fran was wearing her black and yellow tee-shirt which she jokingly referred to as her "Wasp Outfit"  but actually she performs more like a honey bee. Workmanlike and sure in her bass playing with a honey voice which can change to a powerful urgency in a moment. I could also see many eyes focused on Mike's guitar playing which is so rooted in the acoustic finger picking style of the Delta blues greats but also uses the rhythmic foot tapping power of a modern Steve Cropper.

This duo are becoming very popular as noted by the number of musicians and venue promoters who had dropped by to catch them. Fran and Mike took me on a musical journey that I didn't want to end. I'll be looking out for their next gig.

Connie O'Connor – Blues in Britain Magazine
---
Review - Bluesnights @ Dorchester Arts Centre 6/3/10
This was a first time visit to Bluesnights for this very talented duo who regaled us with a rich eclectic mix of classic blues, soul and jazz, plus four of their own compositions! Mike used three guitars, two vintage - a Gibson J45 and a Gibson ESI 25 -plus a Chinese-built resonator. Fran played a Fender Jazz bass plus a flute. though her main instrument is her exquisite voice with which she leads in the vocals department. Think Bonnie Raitt meets Rory Block and you get some idea of the quality and range.
A relatively laid-back first set included Louis Armstrong's "Hear Me Talkin' To Ya". probably via Ella Fitzgerald's version. On Mississippi John Hurt's "Make Me A Pallet" they got into a groove with nice bass lines and a well picked guitar solo. One of their own compositions is titled "Researching The Blues" with which they have developed a very interesting idea of looking into the history of blues songs. They then followed with a very crisp arrangement of Little Walters "Blues With A Feeling" with sharp chops on the guitar and busy bass lines - very well done! They ended this set with an up tempo feisty take on Robert Johnson's "Walkin' Blues" - quite powerful and impressive!
The second set began with Big Mama Thornton's "Unlucky Girl'', a rocking blues that was beautifully executed. Then they came up with the goods on Willie Dixon's "Spoonful", played with a slow reverb and plenty of passion, which went down extremely well. The Jimmy Rushing/Count Basie song "I'm Going To Chicago" was very smooth flowing with lovely guitar licks and the bass driving the rhythm. Throughout the evening Mike's slide playing was excellent with just the right amount injected where it fitted best. They performed a melodic version of Leadbelly's "Midnight Special" with harmony vocals on the chorus. There was a good run of songs by female artists - Ella James. Memphis Minnie and Ella Fitzgerald - to whet the appetite and which were greatly appreciated by the crowd. There is always a bit of the 'unknown quantity' factor with an act's first time visit, not knowing what to expect, but these two came across as warm, witty and passionate about their music and won the crowd over particularly on the strength of their musicianship which was exemplary.
They played two encores. Willie Nelson's "Night Life" was beautifully expressive, especially the vocals. "Sitting On Top Of The World" followed; that was simply great r & b. If there were any justice in the fickle world of UK blues and roots music, Burke and McGillivray would by now be household names. With more arts centre style exposure, that prospect can't be too far away.
A thoroughly enjoyable evening - one which will be repeated in the not too distant future.
Lewis A Harris, Blues In Britain magazine